The Ultimate Solution
For Aging Skin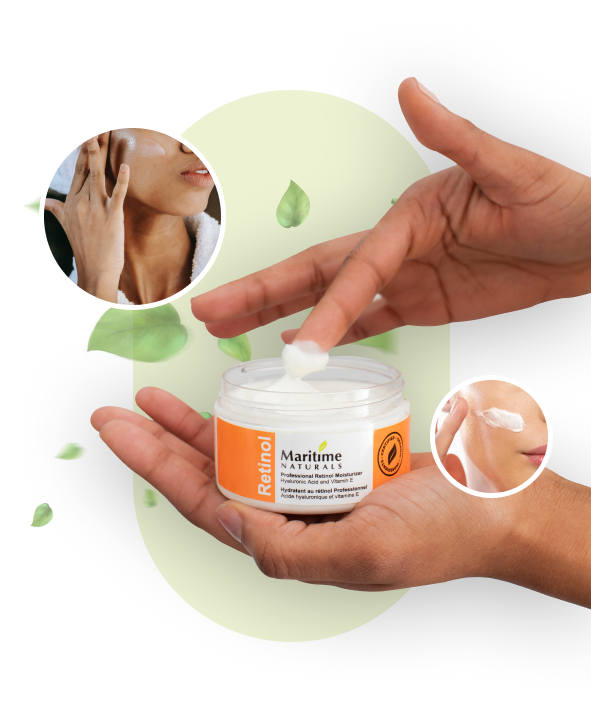 Not all skin creams have lasting effects. That's why Maritime Naturals has developed Retinol Moisturizer, a powerful mixture of antioxidants combined with Hyaluronic Acid and Vitamin E to diminish the appearance of fine lines, wrinkles, and premature aging due to sun exposure. This results-oriented formulation replenishes and protects the skin's moisture barrier while protecting the skin against the abuse of elements.
The Retinol Moisturizer targets the most crucial aspect of prematurely-aging skin – dryness! That's right! No matter how many vitamins and minerals you infuse your skin with, your skin won't retain them properly without the correct moisture levels. No matter how many vitamins and minerals you infuse into your skin, they won't be retained effectively without the correct moisture level. And the best way to achieve that is with the power of Maritime Naturals Retinol Moisturizer.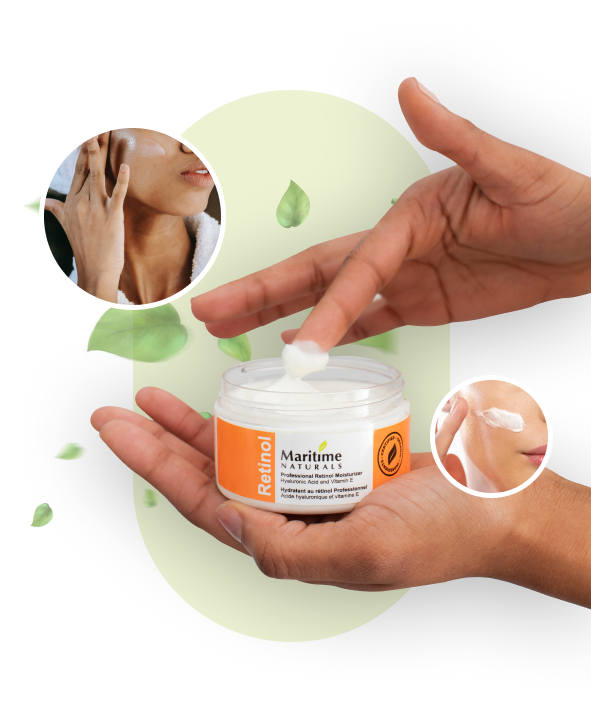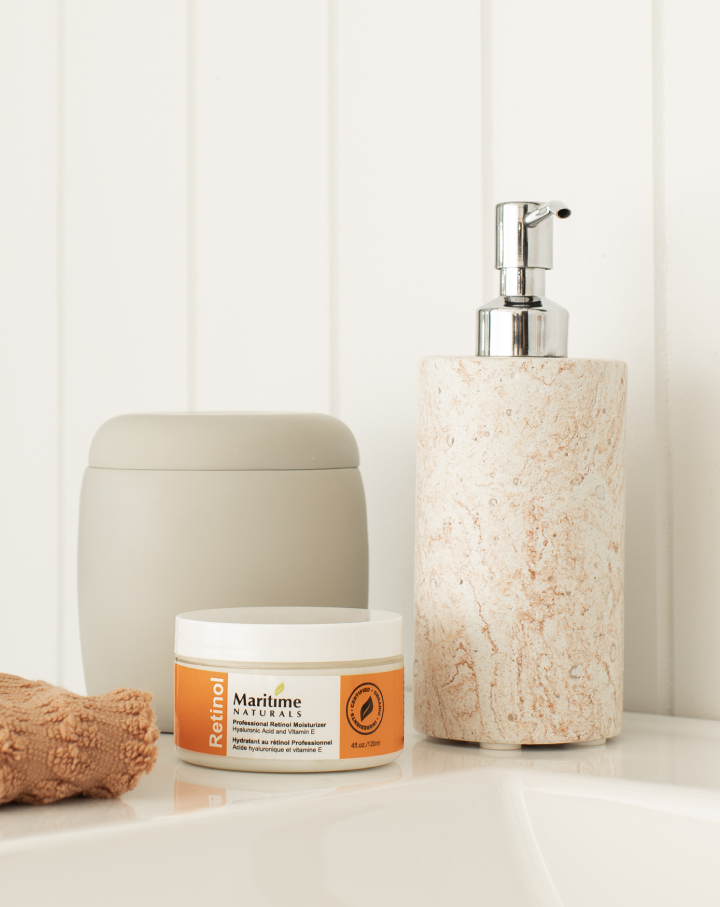 How Maritime Naturals
Retinol Moisturizer
Can Help You
TAKE ADVANTAGE OF RETINOL
It reduces fine lines and wrinkles by increasing collagen production. It also stimulates your skin's blood vessels to improve your skin tone.
TARGETED SKIN CARE
Maritime Naturals Retinol Moisturizer is created specifically to keep your complexion healthy and hydrated.
LOOK YOUNGER
Feel confident about radiant, youthful skin every time you look in the mirror.
Keep Your Skin
Smooth And Protected
It's everything your skin needs - a potent mixture of antioxidants, Hyaluronic Acid and Vitamin E.
Keeps your skin moisturized while protecting it from external stress and environmental damage.
Effectively slows down your skin's aging while reducing wrinkles and fine lines.
Stimulates the production of new blood vessels in your skin, while improving skin color and balancing skin tone.
Fades age spots and softens rough patches on your skin, making it smoother, softer, and more radiant.
We Care About Your Health
Naturally-derived ingredients
Cruelty-Free
Paraben-Free
Fragrance-Free
No dyes and sulfates
Made in Canada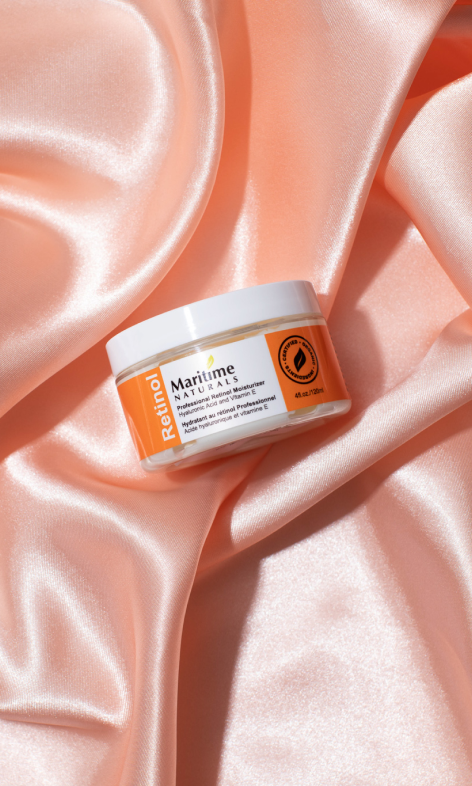 INGREDIENTS
Organic Aloe Barbadensis Leaf, Aqua (Water), Organic Helianthus Annuus, Isopropyl Palmitate, Pentylene Glycol, Phospholipids, Retinol, Polysorbate 20, Potassium Phosphate, Tocopherol, Cassia Angustifolia Seed Polysaccharide, Glyceryl Stearate, Cetyl Alcohol, Stearic Acid, Kosher Vegetable Glycerin, Organic Simmondsia Chinensis, Wildcrafted Camellia Sinensis, Wildcrafted Resina Propoli, Butyrospermum Parkii, Panthenol, Phenoxyethanol, Ethylhexyl Glycerin, Xanthan Gum, Citric Acid, Sweet Orange.
DIRECTIONS FOR USE
Apply in a light circular motion to freshly cleansed and toned face, neck and décolleté areas (avoid direct contact with eyes). Moisturizer application should follow serum application, if used. Allow time to absorb prior to makeup application.
SAFETY WARNING
Especially for sensitive skin – skin patch testing is recommended prior to first use. Do not use on broken or damaged skin. Avoid contact with eyes. If irritation or rash develops, discontinue use. Keep out of reach of children.
Here's What Our Customers Think
Elizabeth K.
Verified Buyer
"A little bit of this cream goes a very long way. It made my skin feel very silky right away. My skin definitely is smoother and I don't have that dry layer on top of my skin even after just a week or so of using it. It has a very neutral scent which I love. There's almost no smell. You will love this cream."
Ryan.
Verified Buyer
"I bought this cream after both my Mom and Sister recommended it! It has not disappointed. :) It doesn't smell and causes zero issues with my sensitive skin.
It is not greasy and spreads beautifully without using much at all! All of that for a very reasonable price! After just one week, my face and neck look and feel better than ever! Always a pleasure to support a Canadian company :) Go Maritime Naturals!!"
Anna M.
Verified Buyer
"I'd have to say this is one of the best retinol creams I've used to date... I'm on my second week & already see great results. I had body acne from high stress & it left behind some acne scars on my chest area. I tried everything to get rid of it, but nothing helped.Then, after barely two weeks, this Canada's premium retinol moisturizer cleared about 90% of it."
Roxane J.
Verified Buyer
"I have been using this cream for a few weeks along with the Vitamin C serum and I've already seen some great results. My skin is smoother and my pores are tighter. I love this product and will repurchase."
Today Is The Best Time To Try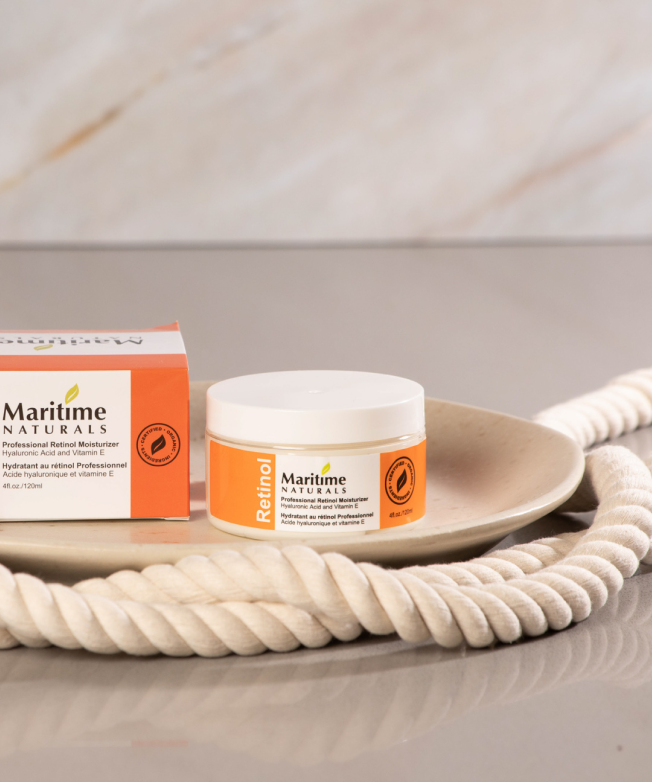 Whether you need to take care of fine lines, sun spots or make sure that your skin stays younger and healthier longer – Maritime Naturals Retinol Moisturizer is the perfect choice.
And to make the choice a no-brainer, we want to offer you an exclusive discount! If you order today, you will receive a 20% discount on your order!
And that's not all! For any order above $50, we'll also ship your items for free!
The earlier you take care of your skin's health, the longer it will look younger and healthier.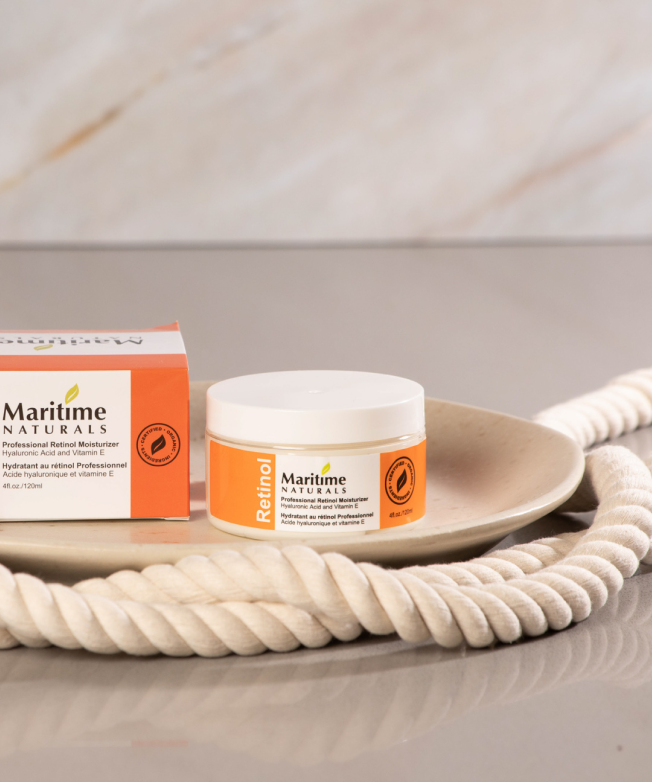 Frequently Asked Questions
Q: Can I use Retinol Moisturizer after using the Vitamin C Serum?
A: Not only is it okay, it's recommended as part of a complete skincare routine.
Q: What does this product smell like?
A: The Retinol Moisturizer is fragrance-free.
Q: Can I use the Retinol Moisturizer after a face wash?
A: Apply Retinol Moisturizer cream to hydrate your skin after washing your face.
Q: Is it suitable for men as well?
A: Yes, Maritime Naturals Retinol Moisturizer is for both men & women.
Q: Should I rinse off this moisturizer or let it soak in?
A: Don't wash your skin after applying. The moisturizer needs to stay there and work its magic!